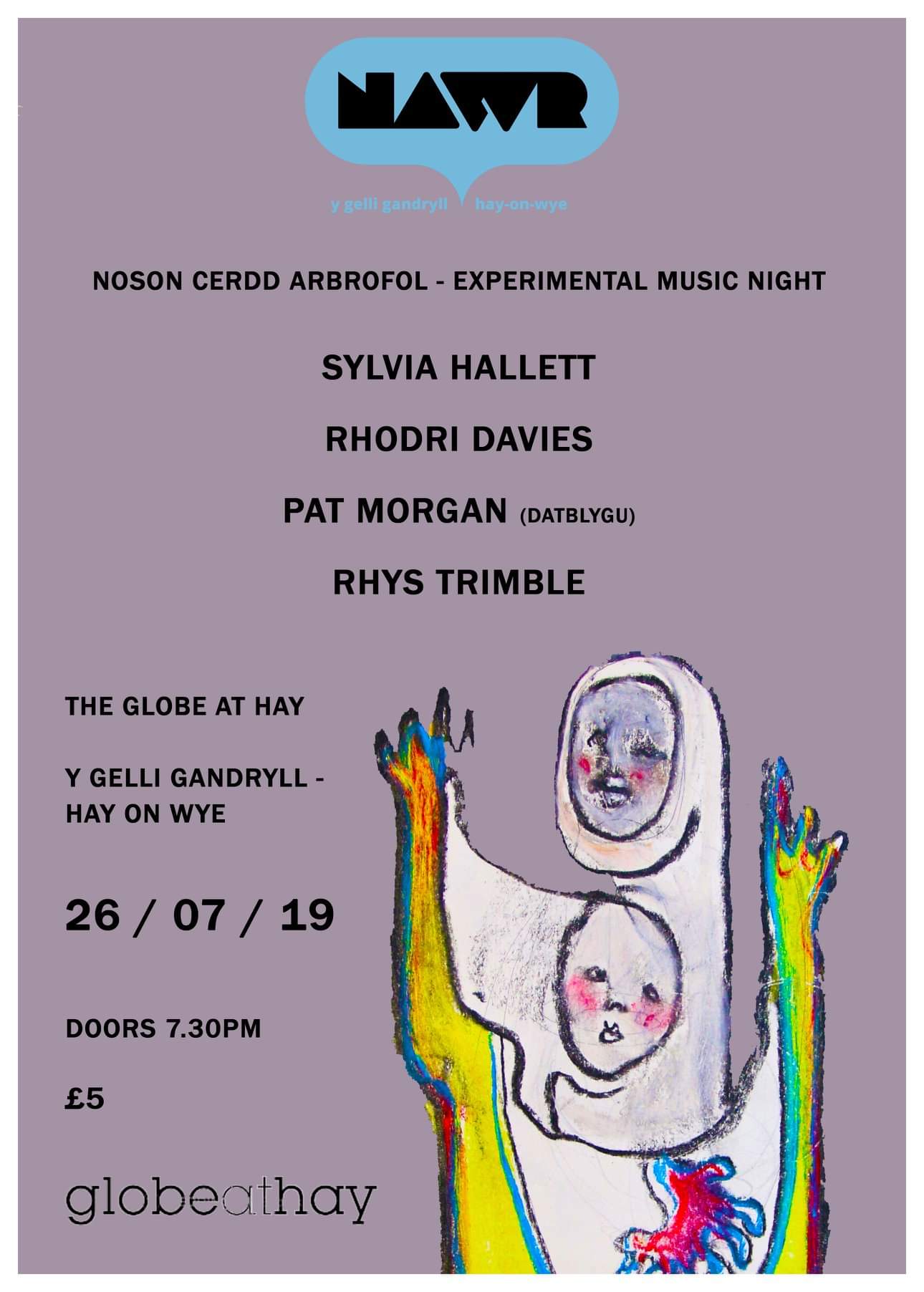 Friday, July 26, 2019 - 19:30
Y Gelli Gandryll / Hay-On-Wye, Hereford, HR3 5BG
7.30 pm Drysau / Doors
£5 - Pay at door
Performances from...
Sylvia Hallett
Sylvia Hallett is a multi-instrumentalist and improviser/composer moving between violin, Norwegian Hardanger fiddle, saw, accordion, electronics and found objects. She currently plays with The London Improvisers Orchestra and The Heliocentrics. Recent collaborators have included musicians Clive Bell, Mike Cooper, Evan Parker, David Toop, Sheridan Tongue, Jah Wobble, Anna
Homler, Chris Dowding, LaXula, and theatre/opera/dance companies Opera North, h2dance, Jacky Lansley, Miranda Tufnell, Eva Karczag, Wonderful Beast, and The Royal Shakespeare Company.
She performs internationally as a solo improviser, having released three solo albums. Recently she was commissioned by the Livio Felluga Wine Company to create and perform a solo site-specific work on a hill in an Italian vineyard.
http://www.sylviahallett.co.uk/
Rhodri Davies
Rhodri Davies was born in 1971 and lives in Swansea, South Wales. He plays harp, electric harp, live-electronics and builds wind, water, ice, dry ice and fire harp installations. He has released four solo albums: Trem, Over Shadows, Wound Response and An Air Swept Clean of All Distance. His regular groups include: HEN OGLEDD (with Richard Dawson and Dawn Bothwell), Cranc, a duo with John Butcher, The Sealed Knot, Common Objects and a trio with John Tilbury and Michael Duch. He has recorded, toured and/or performed with the following artists: David Sylvian, Jenny Hval, Derek Bailey, Mark Fell, Kahimi Karie, Laura Cannell, Lina Lapelyte, Sachiko M, Bill Orcutt, Jim O'Rourke, Ben Patterson, Christian Marclay and David Toop.
Pat Morgan
Pat Morgan - brought up on a diet of TV theme tunes from an early age, has a deep respect for early electronica . Her music has mostly been a platform for the lyrics of David R Edwards in
Datblygu. More recently, she has been involved in experimental improvisation with Canolfan Hamdden collaborating with Gwenno, Rhys Edwards, Pencadlys and Tim Saunders. Be prepared for a twist on the sounds that shaped her past.
Rhys Trimble
Rhys Trimble is a bilingual musician, poet, text artist, performer, drummer, improvisor, editor, critic, collaborator, shaman, staff-wielder and shoutyman based in Wales. Interested in avant-garde and Welsh metrics. The Author of 12 or more books. Born in Zambia in 1977 performed in countries around the world. Work Translated into Slovakian, Polish, Croatian, Galician, Latvian and Turkish.